A couple of days ago, after consulting a map, I decided to explore the upper urban reaches of the Sheaf. This is the little stream that runs from the moors to the west of Sheffield down through Totley, Millhouses, Heeley and finally into the Don. Taking a handful of flies and my 7ft brook rod, we started exploring. We came across a small weir pool stuffed with trout, but after a couple of casts they were all spooked.
We followed the trickle upstream, finding a couple more likely looking pools. Despite seeing fish, these are super wary so a stealthy approach is needed.
The trickle appeared to be running out- it had been a dry couple of weeks with little rain.
We carried on, soon crossing an aqueduct over the railway.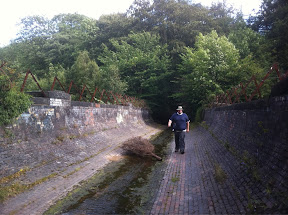 Up from here appeared to be tiny headwaters, but with occasional worthwhile pools to fish. Tight on time, we headed back home, leaving more to discover for next time.....
- Posted from my iPhone
Location:Sheffield, UK